News & Events Archive
Participants for Study on ADHD Diagnoses in Children and Attitudes Towards Trialling Treatment
A final year student at the Dublin Business School (DBS) is seeking participants for a study that aims to enhance our understanding as to why some parents of ADHD children choose to trial medication and why others decline. Participants must be a parent of an ADHD child (under 18 at the time of diagnosis) who was diagnosed between the years 2000 and 2014. Participants are asked to fill an online questionnaire that will take approximately 2-3 minutes to complete. The study has been reviewed and approved by the DBS ethics board and all responses are anonymous.
For more details please contact INCADDS.
26 March 2014
HSE Will Ensure Consistent Administration of Long Term Illness Card Nationally
From the Office of the Ombudsman:
The Ombudsman, Peter Tyndall, has today welcomed the steps taken by the Health Service Executive (HSE) to ensure that the Long Term Illness card scheme does not discriminate on the basis of where an applicant lives. The Ombudsman's report, 'Local Rules for National Schemes – Inequities in the administration of the Long Term Illness Card Scheme', follows a refusal by the HSE to award a Long Term Illness Card (LTI card) to a boy diagnosed with Attention Deficit Hyperactivity Disorder (ADHD). The HSE refused the LTI card on the grounds that the boy did not meet the medical criteria for eligibility. In her complaint to the Ombudsman, the boy's mother, Ms Kelly (not her real name), contended that her son met the relevant medical criteria and she claimed that had he lived elsewhere in Ireland (he lives in Wexford), her son would have been awarded a LTI card.
For more details please see the Ombudsman media release.
30 January 2014
Presentations from INCADDS 2013 Seminar/Workshops
Dr. Timothy Bilkey – Across the Lifespan
Geurt van de Glind – ADHD and Substance Abuse
Participants Needed for Study on ADHD in Adolescent Girls
A study of the impact of ADHD on the lives of adolescent girls, ages 14-18, is currently taking place under the direction of researcher Andrea Lynch at the National University of Ireland, Galway. Participants will be asked to complete one online questionaire & one personal interview regarding the ways in which they feel ADHD impacts their life & school experience. For more information on this study, please contact the researcher at a.lynch19@nuigalway.ie or 087-1129868. More information can be found on Facebook.
INCADDS 2013 Seminar/Workshops – Nov. 15-16, 2013
An Educational Program for the Rapid
Recognition of ADHD in Adults
The Ardilaun Hotel, Galway
Key Note Speaker
Dr. Timothy Bilkey, Hons. BSc. MD. F.R.C.P. (Canada)
Other Guests
Geurt van de Glind – "ADHD and Substance_Abuse"
Tom Creaven and Niall Greene – "Adult ADHD the Pain and the Strain"
To secure your place please email: info@incadds.ie
Event Flyer
Press Release
Registration Form
This is a CPD approved event
Annual European AD/HD Awareness Week – Sept. 23-29, 2013
INCADDS Events
Ballybane Enterprise Centre, Galway
Mon 23rd at 7 pm: Adults on the R/R programme.
Tues 24th at 8 pm: Help for spouses and families of ADHD adults.
Wed 25th: Open Day (10:30 am to 3:30 pm)
Thu 26th at 8pm: "I accept my Child" – Acceptance Therapy by Norma Shortall
For more information please contact INCADDS.
Interview with MEP Nessa Childers and Mary Baker
Interview with MEP Nessa Childers (IRL) and Mary Baker, President European Brain Council, on the release of the white paper "ADHD – Making the Invisible Visible".
A transcript of the interview can be viewed here.
Adult Participants Required for ADHD Survey
Psychology student is seeking to interview adults who were diagnosed with ADHD as a child or as a teenager. The research goal is to assess the impacts of ADHD on everyday life relationships. Research is supervised by a university lecturer. The survey will take approximately 1 hour. Full anonymity will be assured.
For further information or any questions please contact Anne at 087-9915050 or adhdresearchis@gmail.com.
Thinking and Decision making Workshop
"Thinking and Decision making Workshop" for Adults with ADHD. Starting April 8th 2013. 15 weeks duration.
Neurofeedback: A Personal Story
Neurofeedback: A Personal Story from MindscapesHealth.
INCADDS October Seminar
"FIREWORKS ON THE BRAIN" ADHD in Adults
Psychological thinking and treatment into
making an invisible disability transparent
9 am – 4 pm Friday October 5th, 2012.
Sheraton Hotel, Athlone.
Seminar Content
Adult ADHD it is Real
Dr. Geraldine O'Keeffe (Consultant Psychiatrist)
Latest Psychological Treatments
Dr. Susan Young (Vice-President UKAAN)
ADHD and Substance Misuse
Geurt Vande Glind (Director ICASA)
Research Report on ADHD and Substance Misuse
Dr. Marie Claire van Hout (Waterford Institute of Technology)
AD/HD Awareness Week September 24-28
The Irish National Council of ADD Support Groups 2012 AD/HD Awareness Week – Gaining knowledge on the size and scope of the problem
Events
Monday 24th: Early detection and treatment for children & adolescents with AD/HD and Substance Misuse
Tuesday 25th at 8 pm: Living with ADHD for Adults
Wednesday 26th at 4 pm & 8 pm: Development of evidence
Learn how to successfully target attention deficit, hyperactivity, impulsivity, anxiety and mood changes using Neurofeedback Training (NFT), a cutting-edge scientifically approved technology.
Movie Premiere: Rock your Mind – a personal story of how NFT helped a teenager staying at school and improving performance
Contact INCADDS at (091) 755090 for more details.
Incredible Years Programme – Making a Difference
NUI Galway recently released a report titled 'Making a Difference, An Independent Evaluation of the Incredible Years Programme in Pre-Schools in Galway City', which documents significant changes in child behaviour as result of the programme. It also highlights the long-term benefit of such programmes in enhancing the ability of children to be 'active participants' in education and society throughout their lives.
The Incredible Years Programme is an innovative programme that uses puppets to work with children between the ages of 3 and 5 to strengthen their social, emotional and academic competencies. Over 400 children from Galway City have participated in the programme.
A copy of the Full Report is available to download here.
A copy of the Summary Report is available to download here.
For further details on the programme and this report please contact a member of the Incredible Years Team.
ADHD Partnership Support Pack Released
The ADHD Partnership Support Pack is a resource to help parents, carers and teachers from across Europe to work together in supporting school-age children with ADHD. It has been developed with assistance of the European ADHD Awareness Taskforce. See adhdpartnershipsupportpack.ie for further details.
Input Needed From Parents with ADHD Children
If you are the parent of a child (aged 6-25 years) with a diagnosis of ADHD and are willing to complete an anonymous survey (approx. 10 minutes) on your experiences of ADHD-related stigma, please click on the link below. When prompted please enter the password ADHD2011 to proceed with the survey. For further information about this research please contact ruth.mcintyre@ucdconnect.ie
Adult ADHD Research
Ms. Aisling Parsons & Dr. Jessica Bramham are currently conducting research on ADHD in adulthood at the School of Psychology at University College Dublin (UCD) and Trinity College Institute of Neuroscience (TCIN). They are running a number of research projects at the moment. If you have a current diagnosis of ADHD and are over 18 years you can contact the researchers by e-mail: aisling.parsons@ucdconnect.ie or aislingparsons@gmail.com. Alternatively, phone the research line on 086 078 66 46 and they will send you more information about the research.
INCADDS 2011 Seminar
ADHD & Substance Misuse
Friday January 14th 2011
9.30.am -3pm
Sheraton Hotel, Athlone. 
Topics Covered:
– The relationship between ADHD and Substance Misuse
– Gaining knowledge on the size and scope of the problem
– Early detection and treatment for children & adolescents with
ADHD and Substance Misuse
– Development of evidence

Seminar details
Post-seminar press release
Keynote presentation:
The relevance of ADHD in substance use disorders
Launch of the AD/HD leaflets in Irish
Launch of the AD/HD informations leaflets in Irish at Leabharlann na Ceathrun in Co.Galway, December 2009.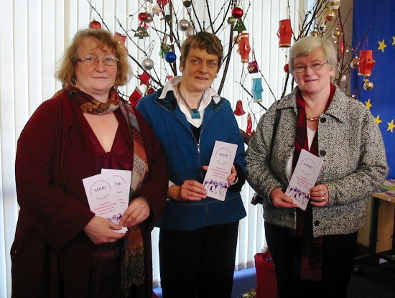 Participants Required for Adult ADHD Study
Trinity College Institute of Neuroscience is conducting a study to examine the effects of a biofeedback-attentional training on adult ADHD patients. They are looking for adults, aged 18-50 years, who have been diagnosed with ADHD, to participate in this study. If you would like to participate or would like further information,please contact: Simona Salomone 01 896 8403, ssalomon@tcd.ie or Sophia Kilcullen 01 896 8403, sophia.kilcullen@gmail.com.
ADHD '09 Conference Presentations
ADHD Over a Lifetime
Limerick , Saturday 10th October 2009
Click on links to download the conference presentations:
- ADHD Across the Lifespan
by Dr David J Carey
- Adolescents ADHD and Addiction
by Wendy Richardson, MA, MFT, CAS
- AD/HD and Co-Existing Conditions – An Overview
by Dr G D Kewley, Consultant Paediatrician, The Learning Assessment & Neurocare Centre
For further information on the conference please contact ADD Mid West Support Group Tel: 061 312621
Minister visits INCADDS
Mary Harney, Minister for Health and Children, visited the head office of INCADDS ( The Irish National Council of ADHD Support Groups) now open at Unit 17a at the Ballybane Enterprise Centre, Galway. Ms Harney is pictured at the centre with, from left: Bridget Kelly, Secretary (Limerick), Ray Kavanagh, Chairman, Rose Kavanagh, Galway, Noel Grealish TD, and Miriam Donnellan, Clare.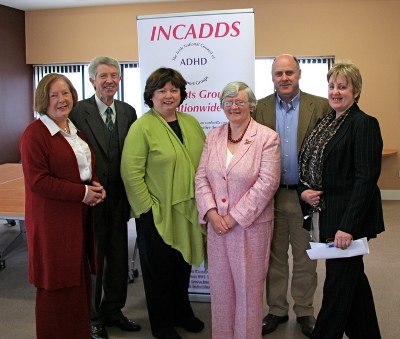 Saturday 16th May 2009
European Mental Health Services Fail the AD/HD Test
European Mental Health Services Fail the AD/HD Test
Press Release ADHD-Europe – 21/05/2009
Mental health care professionals, including psychologists and psychiatrists, frequently have little or no specialized training in treating Attention-Deficit/Hyperactivity Disorder (AD/HD), the most common lifelong mental health problem.
In a newly published survey, Diagnosis&Treatment of AD/HD in Europe: Differences, Problems and Progress, ADHD-Europe examines provision for the treatment and diagnosis of AD/HD in 19 European countries.
Despite some improvements, the survey found provision for AD/HD diagnosis and treatment in crisis. As demand for diagnostic assessment increases, European mental health professionals still receive little or no specialized training in the proper diagnosis and treatment of AD/HD, resulting in insufficient diagnostic services, long waiting times (children can wait for years), inadequate and inappropriate treatment availability for children and less for adults.
A spokeswoman for TDA/H Belgique, Wallonia, Belgium said:
Sometimes it is truly an uphill battle. Some health professionals still know very little about this disorder. Doctors, including psychiatrists and neurologists, look for psychological and/or educational causes.
AD/HD is not caused by poor parenting, changes in the pace of modern society or too much television; it is a neurodevelopmental disorder with core symptoms of inattention and impulsivity, with or without hyperactivity. The causes are complex, but around 80 % of the risk factor is genetic, with approximately 5-6 % of children and 3-5 % of adults being thought to meet the DSM-IV TR diagnostic criteria. In addition to impairments resulting from these symptoms, sufferers and their families may also be affected by social stigma. Treatment offers children a release from the misery and isolation brought about by their behavioural symptoms, as well as improvements in family life and educational achievement. Untreated AD/HD can lead to pervasive lifetime impairment, but the outlook can be much improved with proper treatment.
http://www.adhdeurope.eu/
ADHD-Europe aisbl is a European non-profit umbrella organization which received full legal recognition in Belgium in April 2009. At present, ADHD-Europe represents 27 National and Regional organizations concerned with AD/HD from 19 countries who have worked together since 2005 for the improvement of the situation of those affected by AD/HD.
The survey will be available on May 21, 2009 from ADHD-Europe aisbl, Avenskouter 13, B-9820 Merelbeke, Belgium.
ADHD-Europe wants to raise public awareness about AD/HD and influence the European decision-makers on behalf of people affected by this disorder. ADHD-Europe will do this through the prevention of stigma and discriminatory practices and through the promotion of inclusive practices in the medical, family, school and labour settings across Europe.
Please visit ADHD Europe website for the following recent guidelines:
Health Care Guideline AD/HD for School-age children/ adolescents (ICSI, 2007)
Guidelines for AD/HD in adolescents in transition and in adults (UK, 2006)
Guidelines ADHD in preschool aged children (Australia, 2000)
Preventing later substance use disorders (EMCDDA, 2009)
Parents view on the mental health of their children (Flash Eurobarometer, 2009)
INCADDS Head Office opens in Galway
INCADDS head office now open at Unit 17a, Ballybane Enterprise Centre, Galway.
Tel. no. (091) 755090. Email: info@incadds.ie
May 2008
ADHD Awareness Week 2008
ADHD ACTION – INCADDS
Press Release September 2008
First National ADHD Awareness Week launched 22nd September 2008.
83% of Irish parents of children diagnosed with Attention Deficit Hyperactivity Disorder (ADHD) reported that they often or always got stressed about their child's condition. 79% reported that symptoms impact on family functioning. A further 69% of parents have difficulty getting their child ready in the morning and 58% reported difficulty with their child falling asleep at night. These new findings were revealed today at the launch of Ireland's first national ADHD Awareness Week, a joint initiative of ADHD ACTION and INCADDS (Irish National Council of ADHD Support Groups).
The Irish National ADHD Awareness Week is part of a larger Europe-wide ADHD Awareness Week aiming to increase knowledge of the signs and symptoms of ADHD, its impact on the ADHD child and their family and the support mechanisms available. The Awareness Week is taking place from the 22-28 September 2008.
ADHD is a neurobiological condition affecting 3-7% of school children, roughly two children in every classroom. The core symptoms of ADHD include inattention, hyperactivity and impulsiveness which are not in keeping with those of the same age group and development level. For example, a child with ADHD is easily distracted, finds it difficult to complete tasks and has difficulty returning to the task, if distracted. He or she may also act impulsively, move and speak rapidly and excessively, and may often respond or act inappropriately, without thinking.
"ADHD is highly hereditary"
Commenting at the launch of ADHD Awareness Day, Professor Michael Fitzgerald, Prof of Child Psychiatry, Trinity College Dublin and chairman of ADHD ACTION said 'We are delighted to use today as a platform to increase levels of knowledge and understanding of ADHD amongst the Irish people. It is a common condition, one which can have a huge impact not only on the person living with it but also on the entire family unit. Early diagnosis and access to treatment is essential for these children so that the symptoms of this disorder can be treated as quickly as possible. Knowing how to manage symptoms is imperative as this may allow children and their families the opportunity to live a more normal life with respite from the disruption of ADHD.'
The nationwide survey of 150 Irish parents of ADHD diagnosed children was part of Ireland's first ever nationwide survey of this kind. Entitled 'A survey of ADHD in Irish children', the results together with information on the condition and local support groups operating in Ireland are available in book format. The research was conducted by ADHD ACTION, a multi-disciplinary group whose aim is to educate the general public, patients and health professionals on ADHD with the ultimate aim of improving quality of life for people with ADHD. ADHD ACTION is supported by an unrestricted educational grant from Eli Lilly & Co.
'Bringing up a child with ADHD is not just a case of having to cope with them being fidgety or not being able to concentrate for half an hour or so. ADHD is a condition that affects all aspects the whole family's life of the time. Education and life milestones are the most common cause for concern amongst parents. Lack of friends, aggressiveness and if they will ever lead a normal happy life are all issues parents are worried about,' commented Ray Kavanagh, Chairman, INCADDS.
The ADHD ACTION survey further revealed:
• 87% of parents said that their child's behavior brought ADHD to their attention with 60% mentioning schools.
• 54% of parents were able to achieve a diagnosis for their child locally, the remainder had to seek diagnosis outside of their area or they were referred to a central hospital.
• 75% of parents whose children had been diagnosed with ADHD stated that their child had been diagnosed with another condition.
• 85% of children have problems with tasks late afternoon! early evening
• 47% of parents agree that teachers really help their child out.
• Parent and advocacy groups were cited as the best source of information and the greatest help with 75% in agreement, the internet was next at 48%.
Click here to download: A survey of ADHD in Irish Children
For further information contact adhdaction@fleishmaneurope.com or Tel 01 6188479.